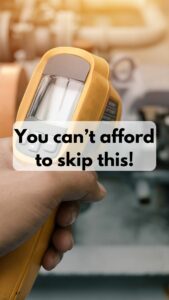 I want to shed light on a crucial aspect of the real estate journey that should never be overlooked: the home inspection. 🏡✨
1. Eyes That Uncover: A home inspector is like a detective, meticulously examining every nook and cranny to uncover hidden truths about a property. From the foundation to the roof, they're trained to identify potential issues that may not be visible to the untrained eye. Trust me, their expertise is invaluable!
2. Money Saved, Peace of Mind Earned: Investing in a professional home inspection can save you from unexpected financial burdens down the road. Identifying major repairs or safety concerns in advance allows for informed decision-making during negotiations. It's a small investment that offers long-term peace of mind.
3. The Unseen Dangers: What lies beneath the surface is often the most critical. From faulty electrical systems to plumbing nightmares, a home inspector can pinpoint potential hazards that compromise your safety or require significant repairs. Don't gamble with your well-being and financial stability.
4. Knowledge is Power: A home inspection report equips you with valuable insights and a deeper understanding of the property's condition. It empowers you to make informed choices, whether it's renegotiating the price, requesting repairs, or deciding to walk away. When armed with knowledge, you're in control!
5. Partner in Protection: As your dedicated Realtor®, my priority is your best interest. I strongly advocate for hiring a home inspector because I understand the risks involved in skipping this essential step. Together, we'll ensure that you make informed decisions, protect your investment, and create a solid foundation for your future.
So, my dear friends, let's not take shortcuts when it comes to the biggest financial decision of your life. Trust the process, invest in a professional home inspection, and rest assured knowing you've made a wise and informed choice. Your dream home should be built on a solid foundation, both literally and metaphorically! 🛠️❤️
#homeinspection #RealEstateAdvice #doyourduediligence
Reach out to me for more real estate guidance. I'd love to help you buy or sell a home in SAN DIEGO!☺️
Lisa Hinkson 🗝️
Agent•Broker Associate•BA•Realtor ®
📍eHomes San Diego
📞 480.330.5224
📩 KeysFromLisa@gmail.com
🌐 http://www.LisaHinkson.com
💼 DRE CA.02055271
💼 DRE AZ.BR508368000