Monday Market Update 🙌🏻
San Diego County, California
Mon Oct 16 2023
This week the median list price for San Diego County, CA is $1,300,000 with the market action index hovering around 56. This is less than last month's market action index of 58. A lower market index means we are leaning closer to a buyer's market. (See arch graph on pic #1).
Total Inventory is 1742 single-family homes on market for the ENTIRE County of San Diego. Last month, the total was 1659 with an average list price of $1,395,000. We are seeing a ⬇️ in pricing for single-family homes on average, from last month, with an ⬆️in inventory. Average Days on Market (DOM) now 70 days. The current median rent in San Diego County for a SFH is $3995.00, a slight decrease from last month's $4000 per month.
"City of the Week" OCEANSIDE🏄‍♂️
This week the median list price for Oceanside, CA is $1,162,000 w/the market action index hovering around 70. This is less than last month's market action index of 75. Inventory has increased to 86 single-family homes. Average DOM is now 55 in Oceanside, CA w/the average rent for a single-family home at $3450.00 per month.
Still in the Seller's Zone but not as strong as last week🌟
The market has been cooling over time and prices have recently flattened in Oceanside. Despite the consistent decrease in MAI, we're in the Seller's zone, where significant demand leaves little inventory available. If the MAI begins to climb, prices will likely follow suit If the MAI drops consistently or falls in the the Buyers zone, watch for downward pressure on the prices.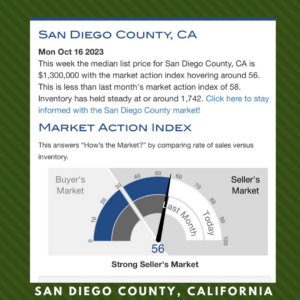 To learn more about your city or neighborhood, contact me anytime. Follow me on links below for more real estate tips. I'd love to help you buy or sell a home in SAN DIEGO!
#mondaymarketupdate #oceanside #sandiegocounty  #sellinghomessince1998 #singlefamilyhomes #knowyournumbers 🙌🏻
Lisa Hinkson 🗝️
Agent•Broker Associate•BA•Realtor ®
📍eHomes San Diego
📞 480.330.5224
📩 KeysFromLisa@gmail.com
🌐 http:/www.LisaHinkson.com
🌳 https://linktr.ee/lisahinkson
💼 DRE CA.02055271
💼 DRE AZ.BR508368000
Licensed Realtor® since 1998. Your North County connection in San Diego.