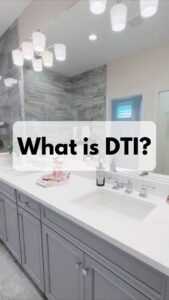 Getting approved for a home loan is a big step, but did you know that different loan products require different debt-to-income ratios?
What's debt-to-income (DTI)?
The DTI ratio is a financial metric that lenders use to evaluate a borrower's ability to manage monthly payments and repay debts. It is a percentage that compares a borrower's total monthly debt payments to their gross monthly income.💸📈
To calculate your DTI ratio, add up all your monthly debt payments (such as mortgage, car loans, credit card payments, student loans, and other debts) and divide it by your gross monthly income (your income before taxes and deductions). The resulting number is your DTI ratio.
Save this post to reference later. 👏
Reach out to me anytime for more real estate guidance. I'd love to help you buy or sell a home in SAN DIEGO!☺️
Lisa Hinkson 🗝️
Agent•Broker Associate•BA•Realtor ®
📍eHomes San Diego
📞 480.330.5224
📩 KeysFromLisa@gmail.com
🌐 http://www.LisaHinkson.com
💼 DRE CA.02055271
💼 DRE AZ.BR508368000