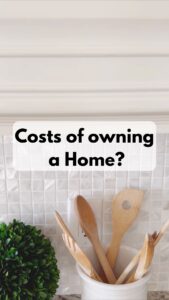 Homeownership is a big deal, but it can be hard to understand how the numbers add up. Here's a quick breakdown of what you'll pay for the "cost of goods."
1. First, there are closing costs—the costs associated with getting your loan approved, including points, fees, and title insurance. These fees can range from 2% to 5% of the total amount of the mortgage.
2. Next are property taxes and homeowner's insurance. Property tax rates vary by location, but they average around 1-5% of the home's value annually. San Diego County homes average around 1% of the home's value unless you have additional fees like a Mello-Roos or other tax assessments. These additional fees could add another 1-1.5% to your taxes. Additionally, you'll have a homeowner's insurance premium.
3. Finally, there are maintenance costs: appliances that break down and need replacing; roofs that need fixing; landscaping—you get the idea! These expenses can run anywhere from $100 per month on up depending on where you live and how much work needs to be done. Budget wisely so you don't run into any surprises!🏡💰💸
Drop me a ❤️ and follow me for more real estate tips. If you have any questions, DM me anytime. I'd love to help you buy or sell a home in SAN DIEGO!☺️
#HomeBudgeting #Knowyournumbers #HomeOwnership
Lisa Hinkson 🗝️
Agent•Broker Associate•BA•Realtor ®
📍eHomes San Diego
📞 480.330.5224
📩 KeysFromLisa@gmail.com
🌐 http://www.LisaHinkson.com
💼 DRE CA.02055271
💼 DRE AZ.BR508368000