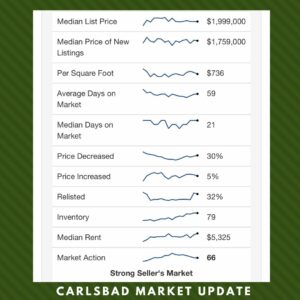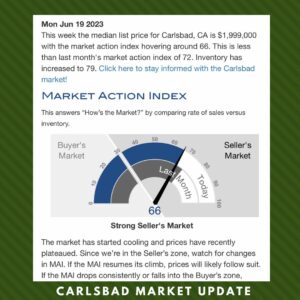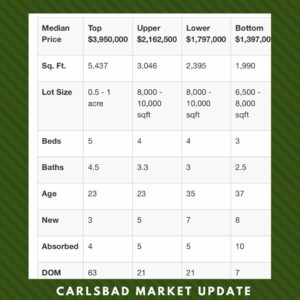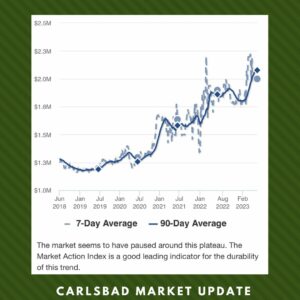 Market Update 🙌🏻
Carlsbad, CA
Thursday Jun 22 2023 
This week the median list price for Carlsbad, CA is $1,999,000 with the market action index hovering around 66. This is less than last month's market action index of 72. Inventory has increased to 79. The median rent for Carlsbad, CA is $5,325.00 per month.
Strong Seller's Market
The market has started cooling and prices have recently plateaued but we remain in a Seller's market. Since we're in the Seller's zone, watch for changes in Market Action Index. If the MAI resumes its climb, prices will likely follow suit. If the MAI drops consistently or falls into the Buyer's zone, watch for downward pressure on prices.
To learn more about your city or neighborhood, contact me anytime. And If you ever come across a neighbor or friend looking for an experienced real estate agent, I hope you will feel comfortable giving them my name. I appreciate it! 😌
#marketupdate#carlsbad #sellinghomessince1998#singlefamilyhomes #knowyournumbers 🙌🏻
Lisa Hinkson 🗝️
Agent•Broker Associate•BA•Realtor ®
📍eHomes San Diego
📞 480.330.5224
📩 KeysFromLisa@gmail.com
🌐 http://www.LisaHinkson.com
💼 DRE CA.02055271
💼 DRE AZ.BR508368000