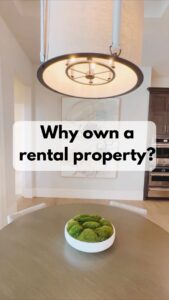 Thinking about renting out your home? 🏠💭
Renting can be a great option for homeowners who want to generate income from their property.
Here are the first steps to take when considering renting out your home:"
Research local rental rates: Before setting a rental price, it's important to research local rental rates to ensure that you're pricing your home competitively.
1. Prepare your home: Your home will need to be in good condition and ready for tenants. This may require some repairs, updates, and cleaning.
2. Determine your rental terms: You'll need to decide on important rental terms, such as lease length, security deposit amount, and pet policies.
3. Screen potential tenants: Once your home is ready for rent, you'll need to screen potential tenants to ensure that they're a good fit for your property.
4. Hire a property manager: If you don't want to handle the day-to-day management of your rental property, consider hiring a property manager to take care of tenant relations, maintenance, and other tasks.
Renting out your home can be a complex process, but as your realtor, I'm here to help. 🤝 I can guide you through each step of the process and provide the expertise you need to make the most of your rental property. Let's get started! 🌟
Reach out to me for more real estate guidance. I'd love to help you buy or sell a home in SAN DIEGO!☺️
#rentingyourhome #investinrealestate #propertymanagement
Lisa Hinkson 🗝️
Agent•Broker Associate•BA•Realtor ®
📍eHomes San Diego
📞 480.330.5224
📩 KeysFromLisa@gmail.com
🌐 http://www.LisaHinkson.com
💼 DRE CA.02055271
💼 DRE AZ.BR508368000